Discover a full range of premium products sustainably harvested from New Zealand
UMF™ 5+ Manuka Honey 500g
"I've been consuming Comvita Manuka Honey for 2 years now. UMF 5+ & 10+. It's very good especially for my throat. Fast delivery. Value for money!"
– Bella –
Propolis Oral Spray Extra Strength
"This is better medicinal oral spray I have, so nice for ulcer."


– Mun Kai –
Kids UMF™ 10+ Manuka Honey Pops
"My kids love this pops so much! Healthy snacks."


– Qin Jia –
Thriving in Harmony with Nature
"It's better to
act your way

to a new way of thinking, than to think your way to a new way of acting."
David Banfield CEO of Comvita New Zealand Ltd
We partner with you

to make Earth a better place for nature to thrive.
By operating from end to end, we're able to save 10 tmillion bees per year, plant over 10 million trees to date, improve biodiversity, support wildlife conservation and help advance beekeeper communities.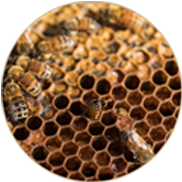 Lightweight BPA-Free Recyclable Jars
Q: Is Comvita Manuka Honey Halal certified?
Yes. Our 100% pure and Halal Manuka Honey products adhere to FIANZ's (Federation of Islamic Associations of New Zealand) stringent Halal certification standard for producing Halal food products.
Yes. What is Comvita Manuka Honey's best before date? How long can Comvita Manuka Honey be kept after opening?
Our UMF™ certified honey has a 3-year shelf life, and is true to label, ensuring the UMF™ level is guaranteed throughout the product's shelf life. 100% pure natural honey does not spoil if kept properly.
How can I convert MGO to UMF™ or vice versa?
MGO does not convert to UMF™.
The UMF™ grading system measures four unique signature compounds – Leptosperin, DHA, MGO and HMF - that science has proven to be found in pure, authentic, quality New Zealand Mānuka honey.
MGO are single-compound measures and cannot convert to the UMF™ rating which is a combination of factors selected to assure quality aspects that matter when delivering quality products to consumers.