Let's start with some drinks!
It's made with Clover Honey, light tasting refreshment and soothes throats too!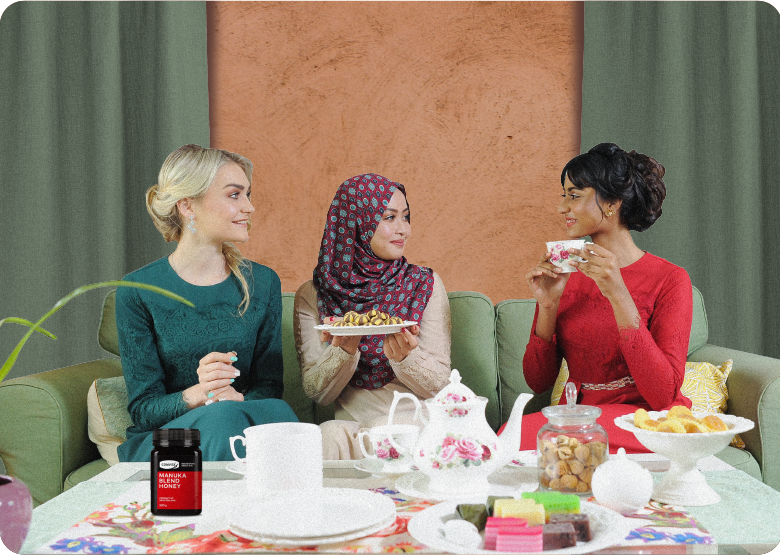 Indulge in these treats made with healthy Comvita Mānuka Blend Honey, it's so yummy. You won't stop at just one!
Take a tablespoon of UMF™ 5+ Mānuka Honey to aid in digestion - then you'll be ready for the meal!
It's time for the next open house.
Soothe your throat and keep the fun going with Mānuka Honey Drops.
Plan your Raya house with Comvita
We've put together a kit to assist you in your planning process.
Comvita Raya Open House Starter Kit
UMF™ 15+ Manuka Honey Twin Pack
Explore More Raya Exclusive Deals
UMF™ 5+ Mānuka Honey 500g
Propolis Oral Spray Extra Strength
UMF™ 10+ Mānuka Honey Drops
Comvita Collective Member Loves it!
Saya dapat info tentang Madu ini daripada kawan. Ia sangat membantu meredakan tanda-tanda awal sakit tekak. Keluarge kami suka produk ini. Saya makan sebanyak satu sudu setiap hari .
Terbaik!! Produk ini diggunakan untuk meningkatkan imuniti. Saya bagi anak satu sudu setiap hari sebelum tidur. Madu ini tak manis sangat compare dengan madu lain. Worth the price! 
Product ini berkualiti!! Ini adalah kali ketiga saya beli daripada seller ini. Biasanya saya campurkan dengan air kosong dan mimum setiap hari
Ini adalah kali ke-3 saya membeli produk ini. Saya menggunakannya setiap hari dan ia membantu saya mengurangkan rasa tidak selesa pada tekak terutamanya selepas bercakap sepanjang hari.
Packaging ini sangat mudah untuk membawa dan simpan dalam beg. Produk ini membantu saya untuk melegakan sakit tekak selepas saya bercakap banyak.
Discover Comvita's Real Mānuka Goodness for yourself and your loved ones
Pure and authentic New Zealand Honey
The gold standard of Manuka Honey Grading system
100% natural and traceable
Hari Raya Recipe Inspiration